Five Ways To Use Santa's Digital Library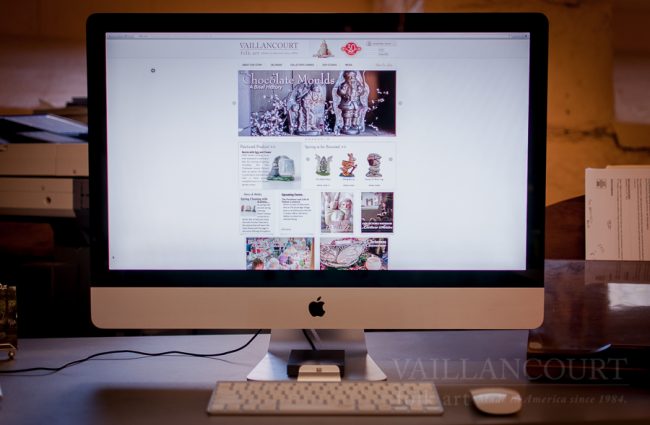 In March 2008, we launched a new initiative in our digital world by cataloging the complete Vaillancourt Folk Art Chalkware collection. Through the launch of a new web site, we were able to accomplish many goals: internally, we created a digital library that allowed us to browse and reference pieces instantly (even our artists have iPads at their desks to quickly reference different pieces). Externally, we created a resource that allowed collectors and online shoppers to look-up pieces, past and present, with historical information as well as a voice to each style and design.
As Judi has been feverishly designing over 100 new pieces each year, the database has grown and grown. As we've extended our reach to consumers around the globe, this resource has been accessed with great demand to answer questions like, "what do I have?" and, "what country of origin was the chocolate mould used to create this Father Christmas?"
Our focus of the website wasn't just to have a digital showcase as an alternative to a print catalog, but to be a historical reference and archive. As we celebrate our 30th anniversary, we continue to improve upon this database by methodically adding details, information, and more detailed photography.
When you browse, or search, there are some features that you may not know about:
Search: Did you inherit or receive a gift of a chalkware piece that you know nothing about? On the bottom you can identify your chalkware with its VFA Nr. Simply type that number into the "SKU or Keyword" search bar at the top right of any web page and hit "Find!" You should see your piece and, by clicking, you'll be able to learn more about it.
Chalkware Guide: When browsing any catalog collection, like Christmas Chalkware or Chalkware Rabbits, the default view is what's in stock—ready for instant ordering. To activate the guide, simply change the drop-down selection for "Availability" from "In Stock" to "Archives (all)." When you do this, all chalkware pieces within a specified category will be shown. Keep in mind, many are not and will not be available for purchase. But you will be able to read more about each of the past styles.
Search by Year: Curious how the pieces looked in 1985 and how they compare to how they looked in 1997? On the bottom left hand side of catalog pages, you'll find a section called "Advanced Chalkware Guide." The second drop down open is "Choose by year introduced…" simply choose the year and see everything that was introduced for that year.
Cut the Clutter: You know what you are looking for but can't remember the year, name, or VFA Nr. By choosing the collection category, you are able to use the drop down to "Sort by" various attributes: sort by year, VFA Nr, or even by quantity available from the retail store.
Last in Stock: It's no surprise, because we hand paint every piece our inventory is always changing. We have no way of predicting how a piece is going to sell (although we do try!) and because of this we often temporarily sell out of pieces before we can get more in stock. To see what pieces are at risk of selling out, we have a "Last in stock" page that shows only pieces that we have 1-3 of in stock. The perfect way to "get it before someone else does."
The very nature of the Internet is change, and as information helps us be more productive and collectors more knowledgeable, we are happy to constantly be making changes to our web site to provide information that think that you will simply love. Enjoy perusing.